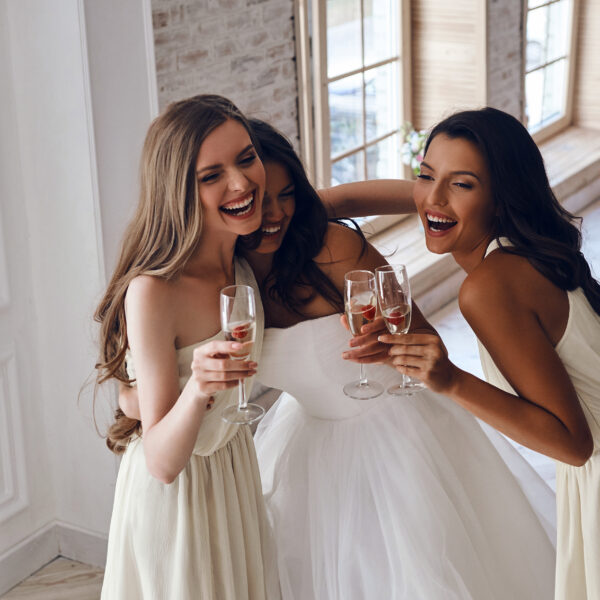 Contemporary wedding trends: modern inspirations for your big day
It's time to delve into the captivating realm of contemporary wedding trends that are redefining the landscape of matrimonial celebrations.
Gone are the days of traditional norms as weddings evolve into personalised, artful expressions of love. From avant-garde decor that pushes boundaries to unconventional venues that tell unique stories, today we are going to delve into the essence of what it means to have a wedding that resonates with the spirit of today's world. So, join us as we explore contemporary wedding trends and minimalist yet impactful aesthetics that promise to spark your creativity as you plan your own remarkable journey down the aisle.
Choose a fresh and modern venue
Bringing a contemporary wedding to life requires a venue that embraces a clean, neutral palette. Think white walls, vaulted ceilings and plenty of natural light. With a modern, minimalist environment, you can create a sleek setting for your ceremony or reception, introducing your own touches here and there in order to bring your own aesthetic to the space.
Two of our favourite contemporary venues here in the North East region are Wynyard Hall, The Croft and Lartington Hall. Both of these unique venues feature in the Plan Our Wedding directory and boast stunning, refined settings that are perfect for an elegant wedding with a contemporary twist.

Set the tone with your stationery
As the first indication of your wedding style, invitations are a key element to help set the tone of your wedding theme and give your guests a small taste of what's to come in terms of your aesthetic. Experiment with bold text and minimal design, and consider opting for either simple neutrals or bold pops of bright colour.
Once the invitations are on their way to your guests, you can start to consider any further stationery that you'd like to include in your big day, such as menus, place cards and the reception programme; continuing to embrace a sleek and elegant aesthetic with these pieces of stationery, too.
From our directory, we can recommend both The Wedding Luxe Studio and The Ivy Collection for minimal and modern stationery that will help you set a contemporary tone for your big day!

Embrace contemporary decor
There are so many ways to embrace a contemporary wedding theme when it comes to your decor!
A good starting point is to consider your colour scheme. Weddings with a modern aesthetic will typically tend to embrace either a super minimal colour palette – focusing predominantly on whites, perhaps with some accents of grey – or will opt for pops and splashes of bright colours or metallics which will allow you to disrupt traditional norms in style! Once you know what colours you are working with, you can start to consider other aspects of your decor, such as furniture and tableware, all of which should embrace a somewhat sleek and minimal feel.
Another way to embrace contemporary aesthetics is to eliminate the need for complex décor when it comes to certain aspects of your wedding. For instance, one approach would be to go for a super simple, minimalist ceremony setting where the decor is toned down to allow the bride and groom to become the focal point during vows and ring exchange.

Have fun with the finishing touches
When you're looking to curate a wedding that goes beyond classical boundaries, it's the little things that make a big difference to the vibe of your big day.
After all, embracing a contemporary style means shrugging off tradition and bringing a touch of flair and individuality, and the finishing touches are really where you can have some fun with this approach. Think fun and elegant wedding favours (such as those from Serenity Crystals Wedding Favours), quirky signage and modern table settings.
How can Plan Our Wedding help?
Here at Plan Our Wedding, we are incredibly passionate about helping couples in the North East to bring their dreams to life and create the perfect wedding.
Our extensive directory is crammed full of fantastic local suppliers, professionals and venues, many of whom are ideally suited to the task of helping you curate a contemporary wedding that feels fresh and modern.
Looking to embrace a contemporary vibe for your big day? Browse our directory or contact us today.