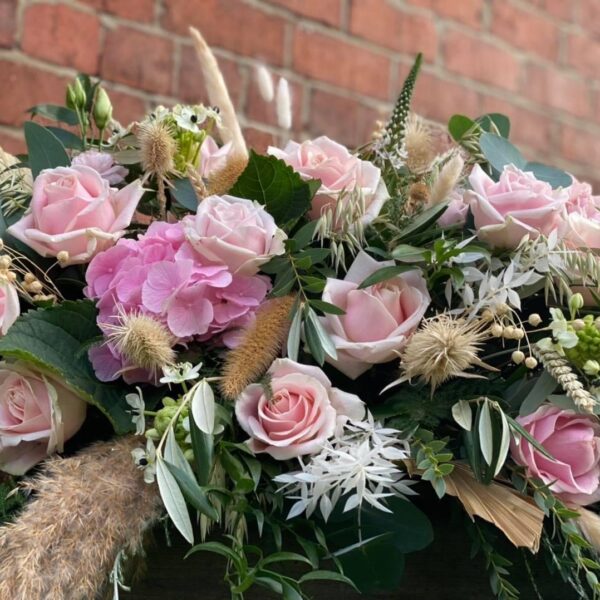 Discovering local wedding florists for your dream wedding
If one thing can truly transform your special day, it's finding the perfect wedding florist.
Planning a wedding is a journey like no other, offering the opportunity to bring the love shared between you and your partner into a celebration that captures the essence of your union. Of course, an essential aspect of your wedding is the approach you choose to take with your flowers. So, in today's blog post, we'll take a closer look at some of our favourite local wedding florists based here in the North East of England, showcasing their expertise, creativity, and unique styles. From enchanting floral table arrangements to breathtaking bridal bouquets, we're here to guide you in selecting the wedding florists who will help you bring your vision to life.
Mindenwood Floral Design
Specialising in bespoke wedding floristry with an emphasis on sustainability, Owner Lisa Corbett prides herself on creating beautiful floral arrangements and installations with her County Durham-based business, Mindenwood Floral Designs. With a penchant for natural, romantic floristry, Lisa is committed to nurturing great relationships with local growers, enabling her to source many of her fresh, vibrant blooms and foliage on a local and seasonal basis.

Saffron & Sage
Saffron & Sage are an impressive, luxury wedding florists based in Bishop Auckland, County Durham. With a strong emphasis on quality, owner Judith brings her natural flair for creativity to everything she does for her clients, creating breathtaking designs with the finest fresh-cut flowers.
The Florist Shop
With many years of experience in the field of floristry, Durham-based business, The Florist Shop is committed to working with their customers in order to bring their visions to life using only the finest and freshest flowers.

Melissa Jane Floral
A luxury wedding florist based in Stockton-on-Tees, Melissa Jane Floral is committed to creating exquisite floral designs with an emphasis on eco-friendly creations, utilising natural and reused products in order to create memorable designs that are both elegant and sustainable.
The Family Tree Florist
Championing a genuine passion for "all things floral, creative and wild", the team over at The Family Tree Florist take great pride in helping brides and grooms across the North East to bring their visions to life with a variety of stunning floral designs. Catering for both small, intimate ceremonies and larger celebrations, this Washington-based floristry business boasts 16 years of industry experience and is a fantastic choice for couples looking for vibrant and unique florals for their special day.

Showcasing the finest local wedding florists
Here at Plan Our Wedding, we're proud to showcase some of the finest North East florists in our comprehensive wedding directory, and we hope that you have enjoyed finding out a little more about some of the fantastic florists operating here in the North East of England!
After all, your flowers are a significant aspect of your wedding day, adding an ethereal touch of beauty to your celebrations with their delicate, almost other-worldly fragrances and resplendent colours. With a vast array of options – from fresh to dried, bouquets to floral arbours – there's plenty of scope to get creative with your wedding flowers by enlisting the help of a fantastic local wedding florist.
Looking to bring your big day to life with showstopping florals? Head over to our directory or contact us today.