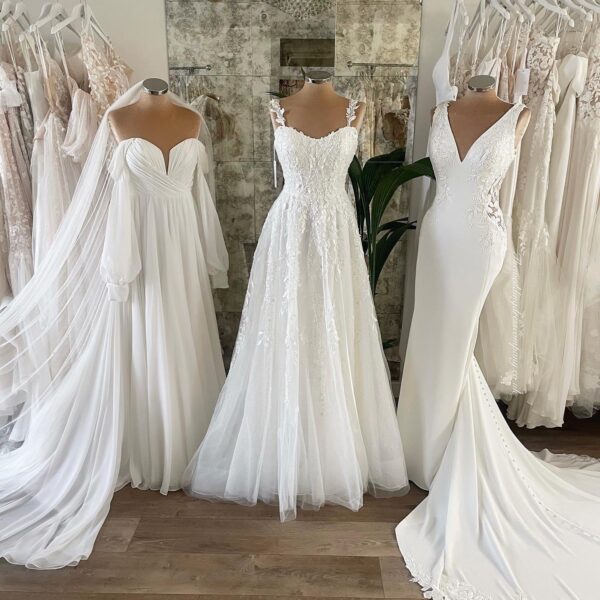 Finding the perfect wedding dress: tips for every bride
Finding the perfect wedding dress is a significant part of the wedding planning process, and a major journey that every bride-to-be embarks upon. 
Each and every bride dreams of looking breathtakingly beautiful on their special day, and the dress plays a crucial role in turning this dream into a reality. In truth, many brides-to-be have been quietly nurturing visions of their dream wedding dress since they were little girls, making the process of selecting the perfect one a pretty major undertaking. With countless styles, fabrics, and designers to choose from, the task of finding the perfect dress can be both exciting and perhaps a little daunting, too! If you're wondering where to start when it comes to finding the dress of your dreams, you're in the right place. The Plan Our Wedding team have put together a roster of essential tips to provide every bride with the guidance needed in order to find the perfect, wow-worthy wedding dress.
1. Know your body shape
Understanding your body shape is paramount in selecting a wedding dress that flatters your figure and enables you to feel comfortable and confident during your ceremony and celebrations. No matter what your shape is, there's a perfect dress style that will accentuate your best features and deflect attention away from any areas that you may be less comfortable with.
2. Set a realistic budget
Wedding dresses come in an incredibly wide range of prices, so setting a realistic budget before you start the shopping process will help you narrow down your options and prevent you from falling in love with a dress that's way out of your price range. Remember to factor in additional costs such as alterations and accessories when calculating your ideal price range.
If you have a very small budget to work with, don't sweat it, and remember that affordable pre-loved and high street finds are just as worthy for your big day as those brand-new dresses with eye-watering price tags that are way out of your budget! There's certainly no shame in scoring a bargain!
3. Do your research
It's super important for you to begin your wedding dress hunt well in advance of your big day, to give you plenty of time to find the dress you've been dreaming of.
Soon after your engagement, you should start researching styles, designers, and bridal boutiques. This will give you a clear idea of what you like and dislike. If you're feeling creative, you can even start to compile a mood board or "look book", raiding images of dresses and accessories from magazines, Pinterest and various other corners of the internet, and collecting them all in one place where you can compare and contrast different ideas.

4. Go on a hunt for the best bridal boutiques
Booking appointments at a range of different bridal shops will allow you to try on a variety of styles and get a better sense of what suits you best, so scout out the very best boutiques in your local area and have fun with the process. When you head to an appointment, bring a select few trusted friends or family members along with you to your dress fittings. Their objective feedback can be invaluable in helping you make the right decision.
If you are based in the North East region, we can recommend Corbridge-based The Wedding Dress Company and Newcastle-based Rosa Bridal Boutique; two of our favourites from the Plan Our Wedding Directory.
6. Consider your theme and setting
Your wedding dress should resonate with the theme and setting of your wedding. So, whether you're having a rustic wedding, a beach wedding or perhaps a formal, classy affair, make sure you choose a dress that complements the vibe of your big day and suits the mood.
7. Keep an open mind
Even if you've got your heart set on something pretty specific, it's always a good idea to be open to trying on dresses that may fall a little outside of your comfort zone. You never know what might end up looking absolutely incredible on you! Shopping around with an open mind will only work in your favour.
8. Enjoy the process!
When all is said and done, the most important piece of advice that we can offer you is simply to enjoy the process. Finding the perfect wedding dress is a right of passage for any bride, and it may be something that you've been dreaming of for a very, very long time. So, try to take a deep breath and don't allow yourself to become too overwhelmed! This part of the wedding planning process is just about you and your vision, so have some fun with it and keep it light. After all, the idea is that you'll only ever choose a wedding dress once, right?
That's a wrap!
Phew, that's about it from us! We hope that we've helped to spark some inspiration for you as you embark upon the incredible journey of finding your dream wedding dress. Remember to enjoy this magical process, and don't forget to check out the boutiques featured in our fantastic wedding directory if you are based in the North East!
Have you got a wedding in the works? Browse our comprehensive wedding directory or contact us today to find out how we can help.