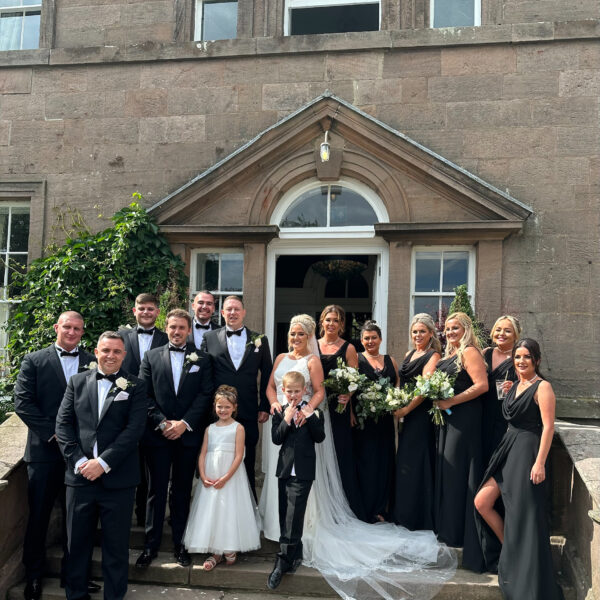 Mr and Mrs Mustoe's dreamy Northumberland wedding
Are you itching to tie the knot and looking for some ideas to help get the ball rolling? The Mustoe's dreamy Northumberland wedding is sure to provide some sparks of inspiration!
We're all about fresh ideas and inspiration here at Plan Our Wedding, which is why we are so excited to share a fantastic insight into one of our wonderful clients' weddings: introducing the Mustoes!
Mr and Mrs Mustoe tied the knot this summer at Charlton Hall, set against the stunning backdrop of the wild and wonderful Northumberland landscape. The day was captured in a series of beautiful images by RED Art Photography, based in Newcastle upon Tyne, and many of our own Plan Our Wedding suppliers pitched in to ensure the day was a memorable, awe-inspiring success. So, in the hopes of kindling some inspiration, let's take a closer look at what made the Mustoe wedding so spectacular!
The perfect setting
Charlton Hall Estate provided the perfect place to say "I do!", as the couple and their loved ones celebrated amidst the freshness, vitality and romance of the natural scenery that makes Charlton Hall such a special venue, and one that we are incredibly proud to include in the Plan Our Wedding Directory.
Tucked away within the grounds of an 18th-century stately home, Charlton Hall positions itself as something of a "rural rebel", where traditional elements bounce against modern touches. The result is a unique and inspiring venue that feels both classic and contemporary all at once. In short, the perfect location for Mr and Mrs Mustoe to tie the knot among friends and family and embark upon a new chapter as husband and wife.

Decor and flowers
The decor and flowers that graced the scene at the Mustoe wedding exuded grace and sophistication, seamlessly organised by Plan Our Wedding supplier, The Whole Sch-Bang.
The Mustoes were keen to embrace the simplicity and beauty of traditional white florals with plenty of green foliage. The Whole Sch-Bang pulled this off perfectly, and also helped the couple to introduce some more contemporary elements into their decor whilst retaining a sense of sophistication and simplicity. The result was an elegant setting that was simply perfect for the Mustoe union.
Let them eat cake!
The cake is undeniably a major focal point of any wedding celebration. As such, the Mustoes were keen to appoint the creation of their wedding cake to a company that they could trust to deliver something spectacular.
Cue Vanilla & Dreams! A firm favourite from the Plan Our Wedding directory, Vanilla & Dreams is a Newcastle-based celebration cake business, dedicated to producing beautiful, handmade cakes using only the finest ingredients and decorations. The Mustoes opted for an incredibly sophisticated single-tier cake finished in beautiful white icing and topped with a handful of white roses, complete with a graceful spray of deep green foliage. Perfection!

You'd better not kill the groove, DJ!
With House of Sax heading up the tunes, there was certainly no chance of a dead groove at the Mustoe wedding.
The signature "House of Sax Experience" proved to be a real crowd-pleaser, as the celebration was brought to life with a medley of live saxophone and percussion combined with a superbly on-point DJ, creating the ultimate house music experience.
It's all about the dress
Of course, you can't have a wedding without the perfect dress (and an ensemble of bridesmaid dresses, too!)
Mrs Mustoe chose a beautiful dress from Newcastle upon Tyne's Y.A.P. Bridal, opting for a simple and sophisticated number with gorgeous details and clean lines. Her cohort of bridesmaids were fitted out in an incredibly classy selection of black dresses from online outfitter Stacees, contrasting beautifully with the classic white of Mrs Mustoe's wedding dress.
The Plan Our Wedding touch
We were delighted to offer our services to the Mustoes and help them curate the wedding that they had been dreaming of for so very long!
Here at Plan Our Wedding, our impressive directory of North East venues and suppliers has everything you need to bring your visions to life, connecting you with professionals and places that are perfect for your big day.
We're here to help you plan the wedding of your dreams. Browse our directory or contact us today.