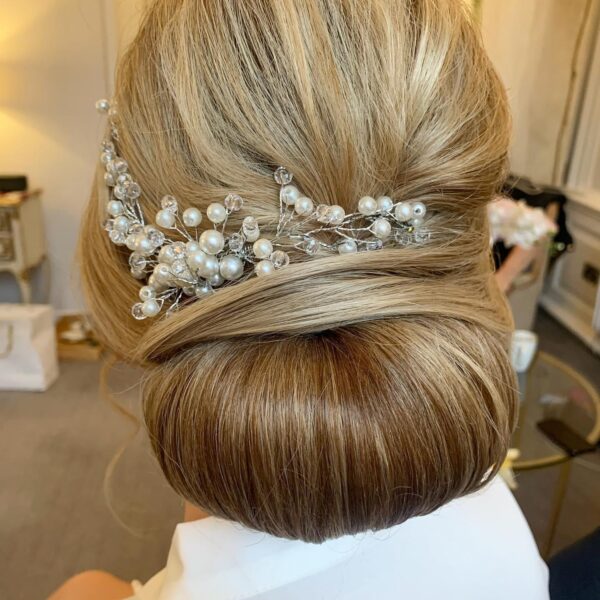 Supplier Spotlight: Amari Bridal Hair Specialist by Gemma
Based in Lanchester and offering remote services, Gemma at Amari Salon brings a natural flair for more technical and creatively challenging hairstyles to the Plan Our Wedding directory. We are excited to feature Gemma's stunningly unique hairstyles in this week's supplier spotlight.
Your wedding day will be one to remember forever, and it's essential that you feel confident from head to toe on the occasion. This is where Gemma can help with her extensive expertise in bridal and occasion hair and her own unique vision, which allows her to create flawless looks every time.
As well as being fully qualified to ensure you get the cut and colour of your dreams, Gemma is also certified to apply Beauty Works and Remi Catchet hair extensions if you're looking for added volume or length to create the right look for you.
Gemma is self-employed and works flexibly, so she can provide you with a bespoke hairstyle in her Lanchester-based salon, Amari, or in the comfort of your own home while you prepare for your ceremony.
In addition to this, Gemma is committed to going the extra mile in order to provide her brides and bridal parties with the perfect hairstyles, travelling as far as Ibiza to help ensure each and every client is prepared for their big day!
Gemma's main location, the Amari salon, offers a full bridal trial experience in the upstairs Bridal Boutique, with the option to use services provided by in-house makeup artist, Stephanie Worrall, to complete your wedding day look.
Working with a vast clientele, Gemma caters her services to brides and models of all ages, ethnicities, and hair types, to ensure she can make each vision come to life.
Thanks to her years of experience providing bespoke hairstyles for clients, Gemma is currently a finalist in the North East Hair and Beauty Awards for Wedding Hair Specialist and Hair Extension Specialist.
Gemma is friendly, professional, and committed to delivering exactly what her clients are looking for. Enquire today for more information on Gemma's services and how she can create the perfect look for your wedding ceremony.