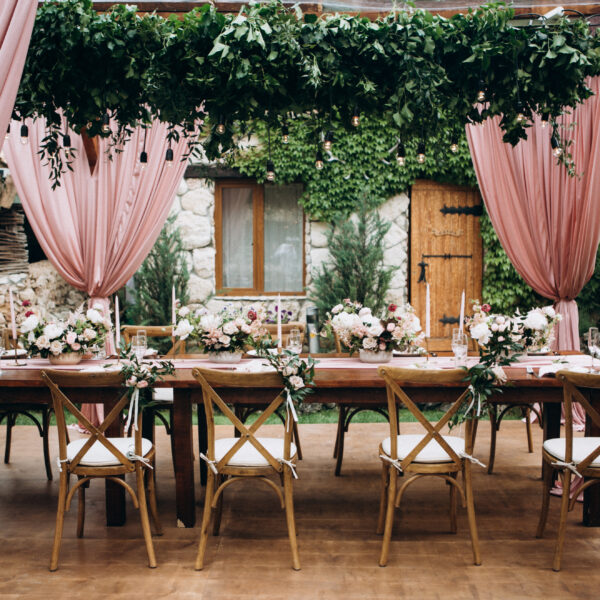 How to Plan the Perfect North East Rustic Wedding
These days, rustic weddings are firmly on the map as one of the most popular wedding themes out there, reflecting a wider 'back to nature' trend that is growing continuously. 
A rustic wedding is one of the simplest and most stripped-back ways to approach the theme of your wedding, yet this aesthetic can make for an incredibly beautiful and romantic day for you and your guests. Using natural elements as focal points in your decor – such as wood, flowers and foliage – and choosing a relaxed, bohemian venue will help you to introduce an effortless atmosphere of peace and tranquillity that friends and family will remember for many years to come. So, if you're looking to embrace a rustic theme and bring some pastoral, laid-back chic to your North East wedding, keep reading. We've got plenty of tips in store for you.
What exactly is a rustic wedding?
For a number of years now, the "rustic wedding" trend has been rising in popularity, and now acts as an umbrella term encompassing any wedding that has more of a casual, natural and bohemian atmosphere.
So, what are the markers of a rustic wedding? Think lofty, wooden barns; vases overflowing with frothy wildflowers; a beautiful arbour fashioned from willow branches; flickering candles framing the aisle…the possibilities are endless! In short, if your vibe is more pastoral than posh then this is probably the right aesthetic for you.

Finding the perfect rustic wedding venue
Of course, it may go without saying that if you want a rustic wedding, the perfect place to get married is outdoors, amongst the trees, flowers and birdsong!
As such, in order to embrace the vibe of a rustic wedding, you'll want to choose a venue that has plenty of greenery on the doorstep. Depending on the season, you may wish to plan for your wedding to actually take place outside under the open sky. If you're worried about the weather, we recommend opting for an indoor venue that is situated within a natural setting, such as a barn or farmhouse. Somewhere that has a natural, stripped-back feel.
Some of our favourite venues for rustic weddings here in the North East of England include the breathtaking Doxford Barns, Vallum Farm and Northside Farm. All of these locations provide the perfect setting for a chic and pastoral wedding that embraces the natural landscape.
Nailing the decor
Now here is where you can really have some fun! Through your decor, your chosen theme can truly shine!
When it comes to rustic weddings, you should aim to avoid anything that is too elaborate or showy, steering away from 'bling' and opting instead for simple, natural decorations. Embracing foliage, flowers, wood and soft, neutral tones. Think simple, linen cloths draped over wooden tables, relaxed arrangements of seasonal flowers and wooden arches entangled with lashings of foliage and twinkling fairy lights.
If you are looking for professional assistance with your rustic wedding decor, we can recommend North East creative decor experts, The Whole Sch-Bang, who can help you to achieve elegant styling with a pastoral flourish.

Choosing a florist
Flowers are a big deal when it comes to any wedding. With a rustic wedding, however, you can really embrace your floral arrangements as an opportunity to emphasise your focus on pastoral, natural decor.
Wow your guests with beautiful floral arches, bedeck your bridal party with flower crowns and cram every corner of your venue with frothy, cascading bouquets of flowers, placing an emphasis on seasonal blooms. In order to maximise the natural feel, consider including plenty of greenery: leaves, branches, fern fronds and ivy all work very well. We also recommend swapping out paper or glitter confetti for flower petals!
For breathtaking flowers with an emphasis on seasonal blooms, Mindenwood Floral Design is a favourite from our directory.
How can Plan Our Wedding help?
Here at Plan Our Wedding, our aim is to help you curate the wedding of your dreams. We do so by connecting you with the suppliers, venues and specialists that will help you bring your vision to life.
With our impressive directory of North East venues and suppliers, we can put you in touch with a number of professionals and places that are ideally suited to helping you create a relaxed, bohemian vibe for your big day.
Looking to embrace a rustic theme for your wedding? Check out our directory or contact us today.